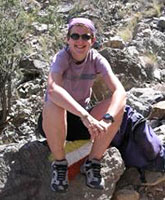 Dr Cathy Hollis co-ordinates carbonate research within the Basin Studies Group. She is a carbonate sedimentologist, specialising in diagenesis and pore system characterisation, with over 15 years postdoctoral experience, primarily within the oil industry.
Prior to joining the University of Manchester, she spent 6 years as a consultant carbonate reservoir geologist and Team Leader for Badley Ashton and Associates (1995-2001), before joining Shell International Exploration and Production as a production geologist (2001-2005), Carbonate Team Leader and Subject Matter Expert in carbonate diagenesis (2005- 2007).
Her research focuses upon conceptual reconstruction of palaeo-fluid flow during diagenesis and the impact that post-depositional processes have on pore shape, size and connectivity. Current research projects concentrate upon fault-and fracture controlled burial diagenesis, including dolomitisation, within syn- and post-rift regimes. This work utilizes field, petrographical and low temperature geochemical data to reconstruct the post-depositional modification of carbonate sediments during basin evolution. It is delivering quantitative geometrical data, conceptual and reactive transport models to explain the timing, shape, size and distribution of diagenetic products.
▲ Up to the top