Regional/ block data reports and evaluations
Regional evaluations are based on extensive research undertaken in a client specified area.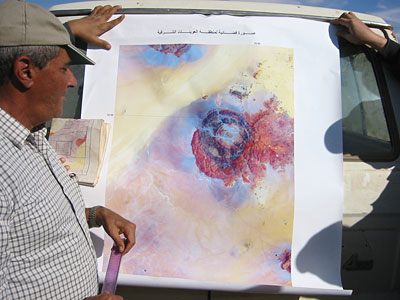 Jebel Aweinat Ring Dyke, Kufra Basin, SE Libya. Photo by Karsten Battermann.
Our evaluations utilize published research/ bibliographic searches and interpretation of clients' proprietary data.
Analysis can include seismic data interpretation, mapping and evaluation, source rock studies and basin modeling, up to full petroleum system modeling.
Examples of evaluations undertaken include:
Libya: Bitech Petroleum (since aquired by LUKOIL) open acreage review;
Libya: BG Group overview of petroleum systems;
Morocco: Sound Oil, block review;
Melrose Resources (since merged with

Petroceltic International

): Southern Egypt;
Morocco - Review of Triassic depositional systems and prospectivity.
▲ Up to the top