Fieldwork
We have a strong team of experienced field geologists and specialists who can undertake regional fieldwork.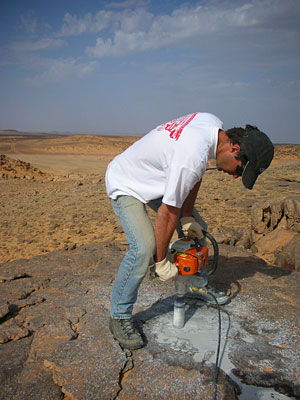 Seb Lüning drilling into Palaeozoic sandstones, southern Libya. Photo by Steve Schulz.
We conduct mapping, outcrop logging and sampling, reservoir characterization, source rock studies and structural analysis. We have considerable experience working in remote locations in Morocco, Libya, Egypt and Algeria, and maintain strong contacts with local government organizations.
We are fully equipped to sample and log sections in detail. All our work is undertaken within a GIS framework for rapid data collection and integration into a client database. We also provide access to detailed satellite imagery if desired.
Field equipment available includes: GPS, Hand Held GR, LiDAR (Digital Mapping and 3D data acquisition). There is also the possibility of local shallow drilling for fresh samples.
We have access to world-class laboratory facilities around the UK and Europe. This allows for the provision of:
Thin sections;
SEM (Scanning electron Microscope);
XRD (X-ray diffraction);
Isotope Analysis;
TOC (Total Organic Carbon);
Basin Modeling;
Petroleum System Modeling.
With our research record, NARG offers the potential to develop data collection into full research projects.
Examples of projects undertaken:
▲ Up to the top