Field courses
NARG has extensive experience of running field trips across North Africa.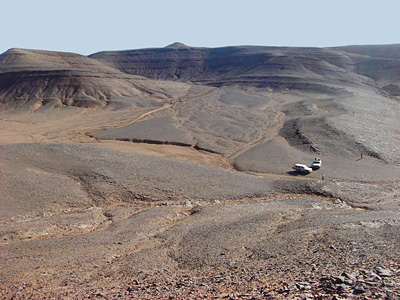 Mid to upper Devonian Awaynat Wanin Fm in central Dor El Gusa (west of Wau El Kebir), eastern margin of the Murzuq Basin, SW Libya.
We have run industry and academic field courses across Libya and Morocco (and analogue courses to the Fundy Basin in Nova Scotia) to review the main plays, reservoirs and evolution of North Africa.
Courses are run regularly for NARG sponsors, but bespoke courses can be arranged for companies that do not sponsor NARG.
Contact and further details:
Prof Jonathan Redfern
NARG
University of Manchester
Department of Earth and Environmental Sciences
Williamson Building
Oxford Road
Manchester
M13 9PL
United Kingdom
Tel: +44 (0) 161 275 3773 (Director)
Tel: +44 (0) 161 306 9379 (Administrator)
Fax +44 (0) 161 306 9361
Email: Jonathan.Redfern@manchester.ac.uk
▲ Up to the top